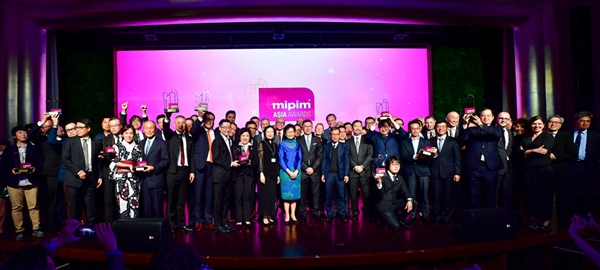 2017年11月28-29日,GOA大象设计受邀参加在香港君悦酒店隆重举办的 "MIPIM亚洲峰会暨颁奖典礼"。作为最著名的地产界奖项之一,MIPIM AISA吸引了全球30个国家逾900位国际房地产要员、企业领袖、公营机构及政府业界代表和学者的参与。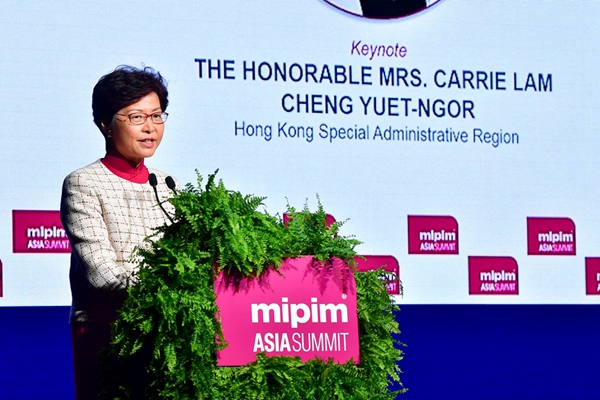 注文:香港特别行政区行政长官林郑月娥女士现场致辞

参会的部分嘉宾有:香港特别行政区行政长官林郑月娥,牛津大学亚洲经济学家Kuijs Louis,高力国际董事总经理Tang Terence,新鸿基地产执行董事Fung Maureen,大曼彻斯特联合管理局首席执行官Boylan Eamonn,伯明翰市议会经济局主席Nazir Waheed,喜达屋资本总经理及亚洲并购负责人Colket Kevin,菲律宾旅游部副部长Jimenez Alma Rita,朗廷酒店集团投资总监Lo Andrew,高纬环球大中国区高级总监Rush Adam,新加坡发展银行香港支行地产直管经理Hung Sherman,哥伦比亚大学房地产发展项目主任Derrington Patrice,贝诺建筑全球设计总监Bee Simon等。GOA大象设计合伙人、GOA上海执行总经理刘纲先生携GOA两件入围作品出席此次盛会。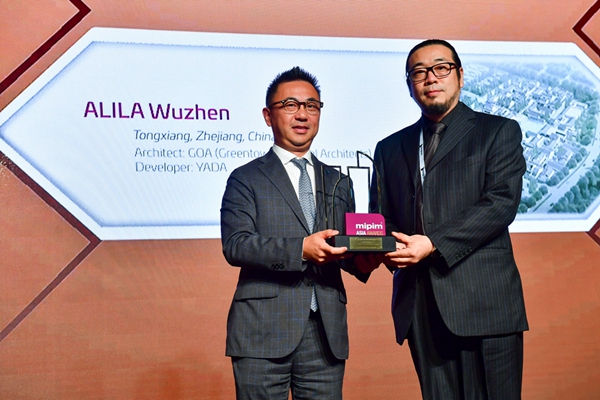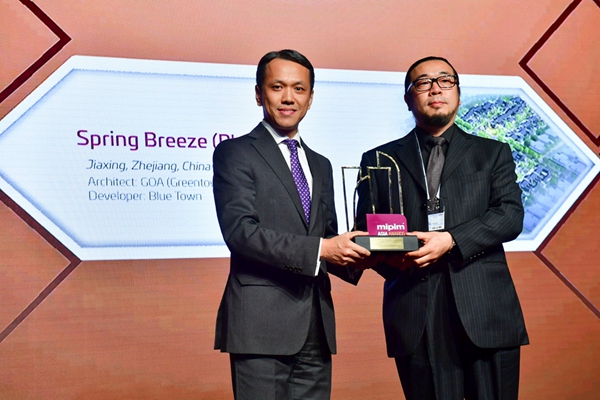 (注文:GOA大象设计合伙人刘纲先生现场领奖)

作为本届唯一入选的中国大陆设计公司,GOA大象设计取得了优异的成绩:作品 "春风江南一期" 与 "乌镇ALILA酒店" 在今年 MIPIM ASIA AWARDS 所设的11个奖项中脱颖而出,分别斩获 "BEST RESIDENTIAL DEVELOPMENT"和"BEST CHINESE FUTURA PROJECT" 两大奖项。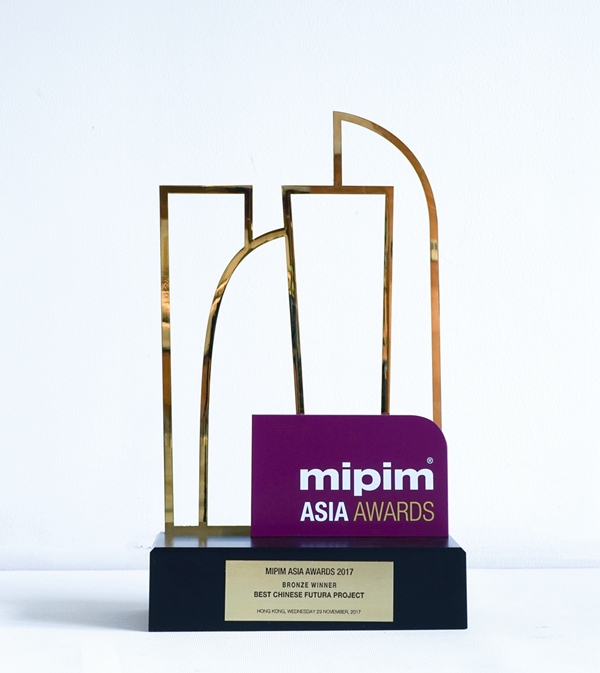 乌镇ALILA酒店 / ALILA Wuzhen

BEST CHINESE FUTURA PROJECT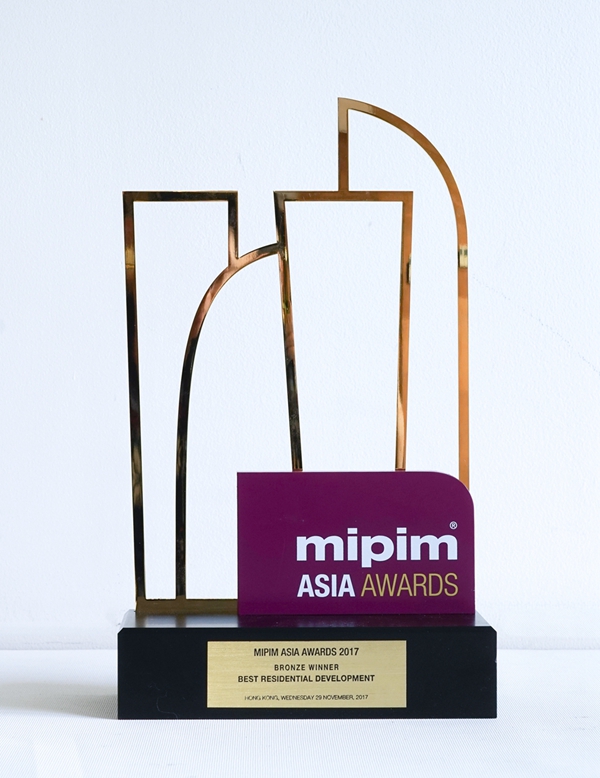 春风江南 / Spring Breeze(phase I)
BEST RESIDENTIAL DEVELOPMENT

MIPIM ASIA 简介
MIPIM ASIA房地产领袖峰会,汇集了来自房地产各相关行业的顶尖专业人士,通过致力于房地产投资及零售地产的世界级企划,建立合作伙伴关系、洞悉业界发展方向并发掘最优秀的项目。2017年的峰会剖析了行业趋势,主题为"在快速变化的世界中表现出色"。这次峰会为从业者和媒体都提供了有价值的见解。

MIPIM ASIA 是从Reed MIDEM筹办的全球房地产盛会MIPIM Cannes派生而成,是亚洲地产业界专业人士及企业公认的顶尖业界会议。MIPIM大奖创立于1990年,是世界上最著名的房地产界奖项,该奖项为世界杰出的建成及将要建成的项目颁发荣誉,被称为地产界的奥斯卡。


From November 28 to 29, 2017, GOA was invited to attend the MIPIM Asia Summit & Awards Ceremony at Grand Hyatt Hong Kong. As one of the most important awards programs in the real estate industry, MIPIM Asia attracted the attendance of more than 900 real estate developers, business leaders, public institutions, government officials, architects and scholars from 30 countries in the world.




Note: Carrie Lam Cheng Yuet-ngor, Chief Executive of the Hong Kong Special Administrative Region, delivers a speech

Guests included Carrie Lam Cheng Yuet-ngor, Chief Executive of the Hong Kong Special Administrative Region, Kuijs Louis, an economist with Oxford University, Tang Terence, Managing Director of Colliers International, Fung Maureen, Executive Director of Sun Hung Kai Properties, Boylan Eamonn, CEO of Greater Manchester Combined Authority, Nazir Waheed, Corporate Director for Economy at Birmingham City Council, Colket Kevin, Managing Director and Head Of Asian Acquisitions at Starwood, Jimenez Alma Rita, Undersecretary of the Department of Tourism (DOT) of the Philippines, Lo Andrew, Investment Director of Langham Hospitality Group, Rush Adam, Senior Director of Cushman & Wakefield Greater China, Hung Sherman, Real Estate Manager of the Hong Kong Branch of the Development Bank of Singapore (DBS), Derrington Patrice, Director of the Real Estate Development Program at Columbia GSAPP, and Bee Simon, Global Design Director of Benoy Limited. Mr. Liu Gang, Principal of GOA and Executive General Manager of GOA Shanghai attended the event with two entries.



(Note: Mr. Liu Gang, Principal of GOA, receives the award)

As the only architectural firm from mainland China that was selected to be an award winner, GOA achieved great results. Its entries, Spring Breeze Phase I and ALILA Wuzhen, stood out during the evaluation process of winners for the 11 categories of MIPIM Asia Awards, and were honored with Best Residential Development and Best Chinese Future Project respectively.




Alila Wuzhen
BEST CHINESE FUTURA PROJECT




Spring Breeze(Phase I)
BEST RESIDENTIAL DEVELOPMENT

Overview of MIPIM ASIA

MIPIM Asia Summit gathers top-level real estate professionals from all sectors to build partnerships, gain industry insight and discover the most outstanding projects through a world-class program dedicated to inbound and outbound property investment, regional development opportunities and retail real estate. This year, through the theme "Excelling in a fast-changing world", MIPIM ASIA Summit 2017 analyzed the industrial trends and provided real estate professional and journalists with invaluable insights.

With its origin in MIPIM Cannes, a global real estate event organized by Reed MIDEM, MIPIM Asia is a top summit widely recognized by real estate professionals and businesses in Asia. Founded in 1990, MIPIM is the world's most famous real estate awards program. It celebrates distinguished real projects completed and to be completed in the world, and its awards are known as the Oscars of the real estate community.